January 2018 Newsletter

What we're talking about in January:
Never before! Two reports on construction technology:

6th Annual 2017 Construction Technology Report from JBKnowledge and partners CFMA, MCAA, Texas A&M
Construction Technology Trend 2018 Report by Software Connect (formerly Find Accounting Software)

A few cool factoids to know for the World of Concrete in Vegas this month
Ruth Stockdale opines on common business trends for 2018
Awesome 'Tips and Tricks' for Sage 300 CRE | Sage 100 CON | Sage Estimating
---
Nuggets from the 6th Annual Construction Technology Report
by Joanie Hollabaugh, Sr. Director of Marketing
Each year, Ledgerwood is given permission by JBKnowledge to share hand-picked "nuggets" from the ConTech report. What appears below is a small representation of the plethora of information collected by JBKnowledge and their partners (our selection focused on software currently in use). NOT covered are IT budgets and staff, mobile and workflow strategies, BIM, R + D, and a look at 2018. This year, the report is beautifully executed, with great graphics and insightful highlights, industry definitions and clever disclaimers. Well done, folks!
We want to mention that like previous years, the survey and report are created with in partnership with the CFMA, MCAA, and the Construction Science department at Texas A & M University.
Finally, we want to thank the "JB" in JBknowledge, James Benham, and Editor-in-Chief, Liz Welsh. Follow James on twitter @JBKnowledge, and @JamesMBenham; Liz @LizTweetsTech. Visit the main website: http://jbknowledge.com/.
Who participated?
"The 6th Annual ConTech Survey was conducted in July 2017, and distributed to over 60,000 construction industry professionals via email, social media, advertisements, and online publications."
Accounting software in use
Sage® software solutions provide versatile options for builders of all sizes, making it the most used accounting software for this year's respondents.
++++++++++++++++++++++++++++++++++++++++++++++++++++++++++++++++++++++++++
Viewpoint® acquired Dexter + Chaney earlier this year, merging two ERP powerhouses. Viewpoint was the second most popular accounting software reported this year. It will be interesting to see how the acquisition will impact Viewpoint's popularity among respondents in subsequent years.
++++++++++++++++++++++++++++++++++++++++++++++++++++++++++++++++++++++++++
While Quickbooks® is not construction-specific, it provides a more dynamic and efficient accounting solution than Microsoft® Excel. Quickbooks is also a great option for companies who have not yet aged into the necessity for an ERP system.
What software are builders using for estimating and takeoff?
Trends in Takeoff software have remained largely unchanged since last year. OnScreen Takeoff® continues to lead takeoff software with Bluebeam® trailing a mere 3% behind.
++++++++++++++++++++++++++++++++++++++++++++++++++++++++++++++++++++++++++
Estimating software experienced a small shift at the top. Sage® experienced a 4% increase since last year, while the significant changes came from AccuBid and QuickPen which each jumped 10% since 2016.
What project management software is most popular?
As expected, project management software responses were dominated by ERP systems, however project management-specific solutions are on the rise in 2017. eSub broke the top 15 responses for project management software this year and other project management software making a showing in this year's survey as "Other" write-ins included Kahua and Red Team.
What software are companies using for client relationship management?
Client relationship management software remains a void within the industry with only a paltry 9% of respondents reporting the recent implementation of client relationship management software.
++++++++++++++++++++++++++++++++++++++++++++++++++++++++++++++++++++++++++
Survey responses indicate an alarming number of businesses still rely on antiquated approaches of spreadsheets and rolodexes for maintaining client databases. Popular client relationship management tools often have a higher price-point which may be seen as an unnecessary luxury item by builders unaware of integrations and prospecting tools.
Partial Summary
The report is so comprehensive, that we will take a look at cloud storage, drones, AI and more in next month's newsletter. For now, we will leave you with this abridged synapsis:
The construction industry will continue to innovate given the technologies interspersed throughout our daily lives, including apps, smartphones, tablets, and other devices. The industry will continue to force business technology providers to match the efficiency, availability and low-cost we get from our consumer tech providers. Until then, contractors will opt to use personal devices and try personal solutions to solve short term problems. Therefore, the lines will continue to blur between personal and corporate data, hardware and software, so data security will remain a key issue. 
++++++++++++++++++++++++++++++++++++++++++++++++++++++++++++++++++++++++++
Automation is here and will gain traction, whether companies and individuals embrace it is a matter of choice and education. Education around what "automation" means for each company is key. If more construction professionals understood the work tasks that automation and Artificial Intelligence technologies can augment and enhance, they might focus less on the tasks they will "replace."
---
Visit us in Sage booth C3509! 
In the meantime, if you want to impress your peers with some trivia about concrete, check out this Ledgerwood blog.
A few fun facts from the LAI article:
The annual global production of concrete is 5 billion cubic yards (Source: Cement Association of Canada)
Concrete is used twice as much as any other building material including wood, steel, plastic, and aluminum (Source: Cement Association of Canada)
Making one ton of cement requires two tons of raw material (Source: http://ecosmartconcrete.com/?page_id=208)
The production of one ton of cement produces the same amount of CO2 (Source: http://ecosmartconcrete.com/?page_id=208)
---
And now, from another country…
Software Connect's* Construction Technology Trends – 2018 Report
*(formerly Find Accounting Software)
This year, we found another great source for ConTech findings — Software Connect. In full disclosure, LAI is a client of Software Connect, as they provide a service linking solution seekers with software VARs and providers of professional services. However, that does not affect the research or results in any way! Software Connect also graciously allowed us to reproduce parts of their report.
To that end, "nuggets" were selected based on areas not published above; Software Connect has a more 'organic' reach due to the nature of their line of business. And again, this is but a small snapshot of the total information shared. Totally worth a longer look!
PUBLISHED ON  BY DAVID BUDIAC (Excerpted with permission)
We speak with a wide range of contractors and construction companies to help in their technology sourcing decisions. These regular discussions help us spot construction tech trends (mostly in United States and Canada).
In September 2017, we surveyed 158 construction industry professionals from small to midsize (SMB) businesses in North America about their current technology and software uses—as well as future plans.
Our key findings:
Expect drones to be commonplace. 26% of SMB construction professionals are already using or plan to use by 2020.
Expect larger tech budgets. 81% of respondents plan to spend more on technology over the coming year compared to last.
Project tracking, estimating, and job costing are the most commonly required software functions.
Software ease-of-use is king. Cited as the most important factor when purchasing new software; even over software functionality and cost.
Construction software buyers are more willing to review cloud-hosted software. 5% more than all other industries.
Construction Software Adoption
The majority of SMB construction professionals use construction management software (56 percent). Unsurprisingly, construction management software users are much less likely to rely on manual methods for business operations (spreadsheets, pen, and paper).
Chart comparing how frequently construction software users vs non-users rely on manual methods to run operations
However, even when construction companies do invest in technologies, they often run into problems that may prevent widespread adoption within the company. Most commonly, the challenges they face include:
Insufficient commitment of resources. While companies may initially invest in technologies, they don't always plan a sustainable, long-term budget to manage and update the technology and train staff on its usage. As a result, ROI is lower than expected, and companies don't maintain the commitment.
Obstacles in large-scale implementation. While a technology initiative may be a high priority in the head office, field staff and contractors are not always sufficiently trained in the tool's usage and importance. Even if they are trained in the technology, crew members may consider the tools a hindrance to their established methods of labor. Construction professionals are demanding software ease-of-use likely to help bridge this gap.
Incompatibility with legacy systems. Construction companies often have an established technology framework for planning, modeling, and managing jobs, and their legacy systems may not be compatible with new integrations. As a result, such implementations are delayed until the point that it makes sense to replace the legacy tools.
A 2016 study from the UK-based BRE Academy found that a digital skills gap was a significant cause of concern, with respondents claiming that management skills were lacking at both an industry- and organization-wide level.
More than two-thirds of respondents to the BRE study said that institutions should do more to promote the technical and digital aspects of the industry. In the coming years, it's clear that hiring employees with the ability to engage with technology tools in the construction field will be a key differentiator for leading companies.
Cloud Software
With every firm we speak to, we ask if they're "open to reviewing cloud/hosted software". The proportion has changed over the years. As of late, construction businesses are especially open to cloud hosted software (typically 5% more likely than other industries).
| | | | |
| --- | --- | --- | --- |
| Open to cloud software | 2017 | 2016 | 2015 |
| Construction | 87% | 84% | 78% |
| All other industries | 82% | 79% | 77% |
Why are construction companies more likely to look for cloud software? Perhaps due to changing job sites, or the need for mobile tech.
Mobile Tech
Fifty-eight percent of SMB construction professionals say their business at least "sometimes" relies on mobile or tablet-based applications. Also unsurprising, hosted/cloud software users were more likely to depend on mobile.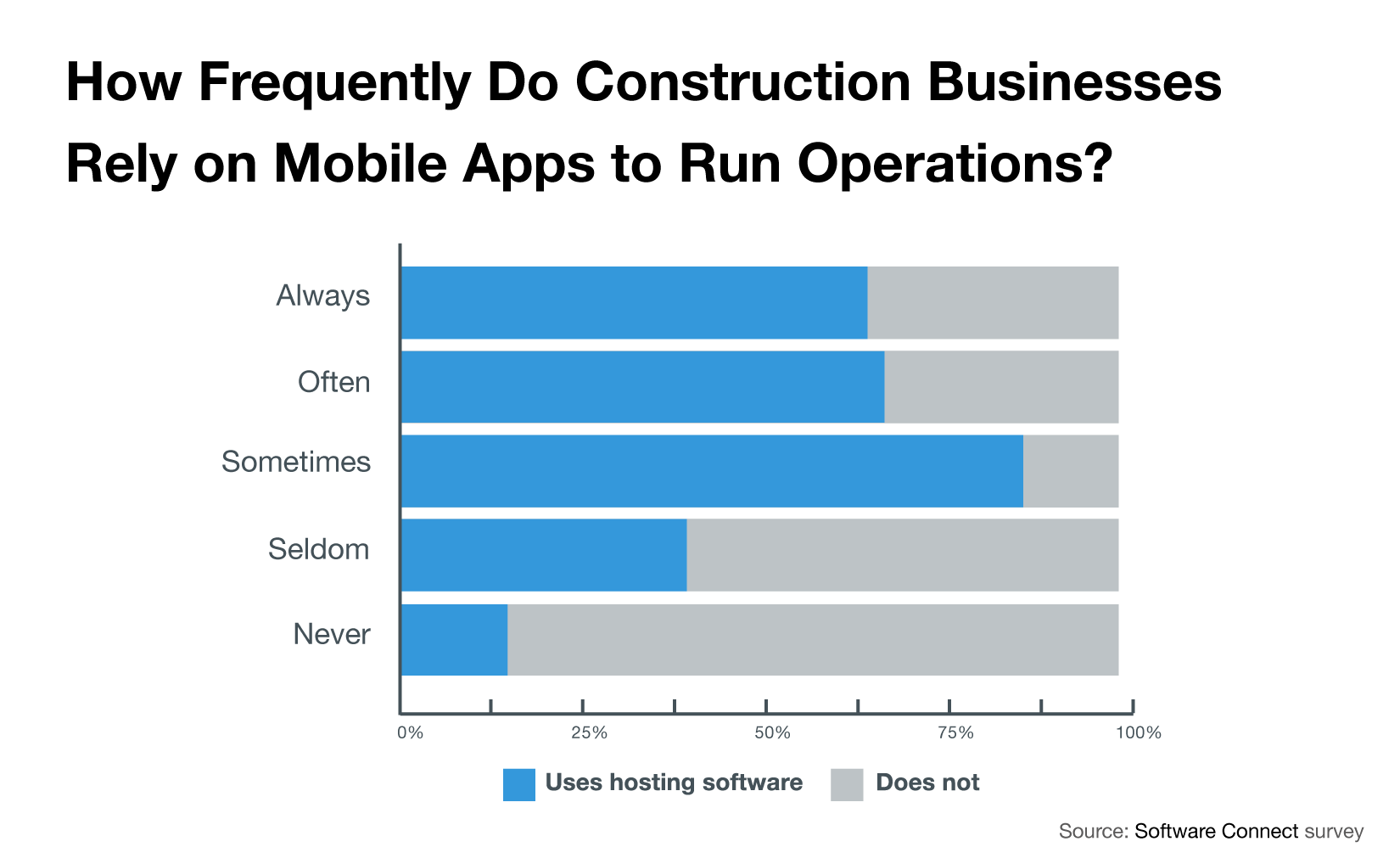 Hosted software and mobile tech go together like two peas in a pod. Especially when you throw in multiple devices and real-time reporting.
But how are contractors using mobile? Sage found the most common use cases included daily field reports, customer / job information, document management, job cost reports, and scheduling.
Demographics
Conducted in September 2017, the "Construction Industry Technology Trends Report" is based on a survey completed by 158 construction industry professionals from small and medium-sized businesses (SMB) in North America. The bulk of respondents came from the United States and 97 percent from companies with fewer than 500 employees.
---
Who Has a Crystal Ball?
by Ruth Stockdale, Director of Professional Services 
It's that time again—time for experts of all types to predict trends for the New Year!
For 2018, market watchers continue to look for the end of an economic cycle, although no one seems to predict it for this year. However, various sources offer some immediate predictions that are easy to agree on. What do these have to do with your Sage software?
Common business trends for 2018
Here is a list of some common trends for businesses in 2018 and how they relate.
Evolving IT offerings
Security problems are predicted to increase in frequency—it's no longer a question of if, but when you will have a problem. Monitoring security within your Sage software, and monitoring security outside of the software should be part of a regular IT management process.
The concept of mobility continues to grow. You have more sophisticated choices for cloud-based access to software and data. What are known as "microservices", or small applications, provide targeted apps with easy mobile access.
Note: Check with us about the many mobile options that integrate with your core Sage software. We can also assist you and your IT staff (or vendor) with a review of Sage security features.
Tight labor market
Increased training can improve the skills of the employees you have and provide a career path for them. Cross train your employees for various positions to improve skills of those who stay and minimizes problem if you experience attrition.
IT improvements allow for better and more secure options for remote work. You may be able to offer the flexibility that valued employees are looking for.
Reviewing and improving workflow processes can eliminate some tedious tasks and allow for increased productivity. Having comprehensive and current documentation of your business processes facilitates training of new hires.
There are multiple resources for training your employees on your Sage products (there will be detailed information for 2018 opportunities in the LAI February newsletter).
Reminder: If you want help in reviewing your current workflows, consider scheduling a review after your year-end processes are complete.
External events
The most immediate will be the details and interpretation of the recent tax changes. Along with Sage, we will keep you informed about anything that will require changes within your Sage products. Read the article on the Tax Cut and Job Act (TCJA) in the "Accounting Tip" in this newsletter (scroll down)!
Regulatory changes may either decrease or increase your reporting requirements. Either way, a change in your data collection and reporting may be needed.
Competition will always be a factor. How you use your software to stay ahead affects everything: the accuracy and viability of an estimate; the management of costs (construction or property management); all reporting requirements; and fundamental accounting processes.
---
 Follow LAI on Social Media for current construction and technology news!
       
---
Upcoming LAI Online Training and Networking Events:
---

The Tax Cut and Jobs Act of 2018
Submitted by Bryan Eto, CPA BeachFleischman
For individual taxpayers, the new tax law — commonly known as the Tax Cuts and Jobs Act (TCJA) — includes many expected changes, some unexpected ones and some that didn't make the final cut.
Here are the most important things that individual taxpayers need to know about the TCJA, which was signed into law on December 22, 2017. Except where noted, these changes are effective for tax years beginning after December 31, 2017, and before January 1, 2026.
Changes to Individual Rates and Brackets
For 2018 through 2025, the TCJA retains seven tax rate brackets, but six of the rates are lower than before. The tax brackets for ordinary taxable income are as follows:
| | | | |
| --- | --- | --- | --- |
| | Single | Married, Filing Jointly | Head of Household |
| 10% tax bracket | $0 – $9,525 | $0 – $19,050 | $0 – $13,600 |
| Beginning of 12% bracket | $9,526 | $19,051 | $13,601 |
| Beginning of 22% bracket | $38,701 | $77,401 | $51,801 |
| Beginning of 24% bracket | $82,501 | $165,001 | $82,501 |
| Beginning of 32% bracket | $157,501 | $315,001 | $157,501 |
| Beginning of 35% bracket | $200,001 | $400,001 | $200,001 |
| Beginning of 37% bracket | $500,001 | $600,001 | $500,001 |
In 2026, the rates and brackets that were in place for 2017 are scheduled to return.
Taxes on Long-Term Capital Gains and Dividends
The TCJA retains the current tax rates on long-term capital gains and qualified dividends. For 2018, the rate brackets for adjusted net capital gains are:
| | | | |
| --- | --- | --- | --- |
| | Single | Married, Filing Jointly | Head of Household |
| 0% tax bracket | $ 0 – $38,599 | $0 – $77,199 | $0 – $51,699 |
| Beginning of 15% bracket | $38,600 | $77,200 | $51,700 |
| Beginning of 20% bracket | $425,800 | $479,000 | $452,400 |
Adjusted net capital gains are net capital gains plus qualified dividends less gains required to be taxed at 25% and 28%. These brackets are almost the same as what they would have been under prior law. The only change is the way the 2018 inflation adjustments are calculated.
Individual Alternative Minimum Tax (AMT)
Despite discussion by Congress to repeal the individual AMT, the new law retains it. But, starting in 2018, the exemption deductions will increase significantly and the exemptions will be phased out at much higher income levels.
Under prior law, the AMT exposure for many individuals was caused by high itemized deductions for state and local taxes and multiple personal and dependent exemption deductions. Those tax breaks are disallowed under the AMT rules.
Under the new law, many individuals who owed the AMT under prior law will be off the hook in 2018. Why? In addition to higher AMT exemption deductions and higher exemption phaseout thresholds, the TCJA 1) limits deductions for state and local taxes, and 2) eliminates personal and dependency exemptions.
Standard Deduction and Personal and Dependency Exemptions
A big decision for individual taxpayers will be: Should I itemize deductions or take the standard deduction? Under the new law, many more taxpayers are likely to take the standard deduction, rather than itemize deductions. Why? The TCJA significantly increases the standard deduction amounts, starting in 2018, to:
$12,000 for singles (up from $6,350 for 2017),
$24,000 for married couples who file jointly (up from $12,700 for 2017), and
$18,000 for heads of households (up from $9,350 for 2017).
Additional standard deduction amounts for elderly and blind individuals are still allowed.
Unfortunately, the TCJA eliminates personal and dependency exemptions. (Under prior law, personal and dependency exemptions would have been $4,150 each for 2018.)
Deductions for State and Local Taxes
Under prior law, if you itemize deductions, you're allowed to deduct an unlimited amount of personal state and local income and property taxes. You also have the option of forgoing any deduction for state and local income taxes and, instead, deducting state and local general sales taxes.
Starting in 2018, the TCJA limits the deduction for state and local income and property taxes to a combined total of $10,000 ($5,000 for married people who file separately). Foreign real property taxes can no longer be deducted. However, you can still opt to deduct state and local general sales taxes instead of state and local income taxes.
Important note: The TCJA specifically says that you can't claim a 2017 deduction for prepaid state or local income taxes that are imposed for a tax year beginning after December 31, 2017. The IRS has also issued an advisory stating that prepayments of anticipated property taxes that haven't been assessed prior to 2018 aren't deductible in 2017. In addition, prepaying state and local property taxes to lower your tax bill for 2017 could backfire if you are subject to the AMT.
Tax Breaks for Homeowners
Under prior law, individual taxpayers are allowed to deduct interest on up to $1 million of mortgage debt to buy a first or second residence. The mortgage debt ceiling is reduced to $500,000 for married people who file separately. Under prior law, individuals could also deduct interest on up to $100,000 of home equity debt.
Starting in 2018, the TCJA allows you to deduct interest on up to only $750,000 of mortgage debt incurred to buy a first or second residence ($375,000 for those who use married filing separately status). However, this change doesn't affect home acquisition mortgages taken out under binding contracts in effect before December 16, 2017, as long as the home purchase closes before April 1, 2018.
So, the limits allowed under the prior law ($1 million or $500,000 for married people who file separately) continue to apply to home acquisition mortgages that were taken out when the prior law was in effect — even if these loans are refinanced after 2017 (as long as the refinanced loan principal doesn't exceed the old loan balance at the time of the refinancing).
What about home equity loan interest? Starting in 2018, the TCJA eliminates the provision that allows interest deductions on up to $100,000 of home equity loan balances.
In addition, the TCJA preserves the home sale gain exclusion. This valuable tax break allows you to potentially exclude from federal income tax up to $250,000 of gain from a qualified home sale, or $500,000 if you're married and file jointly. Both the House and Senate versions of the tax bill originally included restrictions related to this break, but none of the proposed changes made the final cut.
Medical Expense Deductions
The new law expands the deduction for medical expenses to cover costs in excess of 7.5% of adjusted gross income (AGI) for 2017 and 2018. (Under prior law, the threshold for deducting medical expenses was 10% of AGI.) After 2018, the deduction threshold is scheduled to return to 10% of AGI.
Education Tax Breaks
The TCJA leaves all of the existing education-related tax breaks in place. It also allows you to take tax-free distributions of up to $10,000 per year from a Section 529 plan to cover tuition at a public, private, or religious elementary or secondary school, starting in 2018.
Child and Dependent Tax Credits
Under prior law, many households were ineligible for the $1,000 child tax credit, because they made too much money. But next year, more families will be eligible for this credit — which will help offset the elimination of the dependency exemptions — and it will double.
Starting in 2018, the maximum child tax credit increases to $2,000 per qualifying child, and up to $1,400 can be refundable. (In other words, lower-income taxpayers can collect up to that amount even if they don't owe any federal income tax.) The income levels at which the child tax credit is phased out will also increase significantly (to $400,000 for married couples who file jointly). So, almost all taxpayers with under-age-17 children will qualify for this break. In addition, a new $500 nonrefundable credit is allowed for qualified dependents, such as:
A qualifying 17- or 18-year-old,
A full-time student under age 24,
A disabled child of any age, and
Other qualifying (nonchild) relatives if all the requirements are met.
Roth Conversion Reversals
Starting in 2018, you won't be able to reverse the conversion of a traditional IRA into a Roth account. Under prior law, you had until October 15 of the year after an ill-advised conversion to reverse it and thereby avoid the conversion tax bill.
The TCJA represents a major tax overhaul. It will take time and effort to understand its full effect on your personal tax situation. Your tax advisor can help you take advantage of beneficial changes and avoid pitfalls.
Beach Fleischman 2201 E. Camelback Rd. Phoenix, AZ 85016 602.265.7011 | http://beachfleischman.com | twitter: @BeachFleischman
---

The New 'Sage 100 v.20' Year: the SHORT Version
by Pam Schulz, Sage Certified Consultant
The last thing you need is ANOTHER 'to-do' list, but this is MANDATORY in Sage 100 Contractor!
BY NOW YOU SHOULD HAVE:
Archived 2017 payroll files
The PAYROLL ARCHIVE is required after processing the last payroll records for 2017 and BEFORE creating any payroll records for 2018. If you skipped this step, call for help!
Updated new rates and maximums on payroll calculations
The FICA wage base maximum has increased to $128,400 for 2018. Your state unemployment rates and maximums have likely changed as well. These updates are done at menu option "5-3-1- Payroll Calculations." Enter the new rates, then use the "Options>Update" feature at the top of the page to update the individual employee's screens.
Loaded tax update (only available for version 20)
The most recent update is version 20.7; sent out December 19. Since there is a new tax law, AND many states are still releasing their updated tax tables, be sure to watch for more tax updates over the next few weeks.
Notice that the Federal and State tax tables are updated through the "tax update" provided by Sage; whereas you control the updating of the FICA max and SUI rate changes in menu option 5-3-1. Some users cannot install an update immediately, so this allows more control over the timing of updates without causing incorrect FICA and SUI calculations.
Upgraded to version 20
It's time. There are no more updates available for version 19. Version 20 has had numerous and amazing enhancements – you are missing out!
BY JANUARY 31, YOU MUST:
File and distribute W2s — both to recipients and file with SSA
Distribute your W2 forms to employees by January 31. The SSA reporting (so easy to do using aatrix) is due at the same time.
Complete Quarter 4 Federal and State Payroll Reports
Most state quarterly reports, as well as the Federal 941 form are due by January 31.
File and distribute 1099s to both recipients and to IRS
Distribute your 1099s to the recipients by January 31
If you are reporting "non-employee compensation" on the form (and that's what most of you are doing), then the deadline for reporting to the IRS is also January 31. (This is also very easy to do using aatrix.)
Distribute ACA (Affordable Care Act) forms
Distribute to recipients (file with IRS by March 31 electronically)
Distribute your ACA forms to employees by January 31. If you file electronically (which is what you are doing using aatrix), this must be done by April 2, 2018.
LATER, YOU WILL:
Archive Fiscal Year
For most, the last fiscal year will be archived once you are completely finished posting transactions, including year end CPA adjustments. This may be a few months from now, but in the meantime, make sure you are LOCKING periods to prevent unwanted posting. This is done at menu option 1-6: Manage Period Availability.
Prepare year end reports, reconciliation and schedules
All of your accounting reports are available for any period at any time; therefore there is no strict timing on running year end reports. HOWEVER, since bank and credit card reconciliations cannot be reprinted if not saved, this is one area to take special care at year end. Make sure to print and save all of the year end reconciliation reports.
Some of the most common reports you will need are:

2-1-1-21; Trial Balance – from the beginning period of your fiscal year to the end. Verify that the beginning values match your prior year end balance sheet.
2-2-21; Balance sheet; as of the ending period of the year
2-3-21 Income Statement – select the periods for the beginning of the year to the end
3-1-3; AR Aging – typically I use one of the LANDSCAPE versions as they have a "totals" and a retention column.
4-1-3; AP Aging – same as above; use a LANDSCAPE version; whether you show detail or not.
1-5-21; Bank Reconciliation – WATCH OUT – you need to supplement this report with a memo to tie out the bank rec to the GL – the "ending balance" on the report is NOT the GL balance at the end of the period – save yourself a call from the accountant and tie it out beforehand.
6-1-7-21, 6-1-8-21; Over Under Billings or a variation of such. Your accountant may request a "contract schedule" or "WIP report" – all of these fall into the type of reporting available in these options. You may be able to use the reports here, or use the data to complete your accountant's special forms. (Or write a custom report to produce the output for the accountant.)

There may be more reports, remember you have a very robust Report Writer built into the program!
January is a busy month with all of the year end reporting requirements; especially since in the last few years, not only have the reporting requirements increased, but the deadline for many reports have been moved up. Break the tasks into what HAS to be done, in order, and the job will be much easier. Your Sage 100 Contractor software has so many of the tools you need built right in, with simple wizards to follow in many cases.
Now, take a deep breath. Relax. Right?
If you need additional help, use the form below for help to set up an appointment with a consultant.

Prepare for the Future of Sage 300 CRE!
by Kyle Zeigler, Sage Senior Certified Consultant
Planned re-engineering
Sage's gradual re-engineering of the Sage 300 Construction and Real Estate accounting product began with the introduction of the new Sage Desktop in version 16.1. As the transformation continues over the next few years, users are encouraged to become well-informed of the changes introduced in each new version before installing it. Proper preparation and planning for the new versions will save users the unnecessary downtime and expense of troubleshooting the software when unexpected issues arise after installation.
The SQL choice
For instance, with version 17.1, users have the ability to replicate their Sage 300 CRE data into a Microsoft SQL database, which in turn allows integration with Sage's new mobility applications (Sage Construction Project Center and Sage Service Operations). However, to take advantage of this new feature, Microsoft SQL Server must also be installed. SQL Express can be used at no additional cost, but there are limitations on the size of the data that can be replicated. Users who want to replicate large quantities of data may need to purchase a full version of MS SQL. IT providers should be made aware of the new requirements so that any potential need to upgrade computers, software, and/or operating systems can be budgeted well in advance.
New License administration tool
Also, users should be aware of the new License Administration tool in version 17.1. Licenses can be allocated across multiple servers or to allocate licenses for mobile applications to users. If licenses are not properly allocated after installing version 17.1, users will not have access to the applications in their Sage 300 CRE suite.
Prior to installing version 17.1, the following preparation is recommended:
Review the minimum hardware and software requirements for both servers and workstations with your IT provider to ensure the newer version will be supported on your network.
Clean up the Sage 300 CRE data folders. Use File Tools to move corrupt or renamed files that are no longer needed. Move non-data files such as Excel, .pdf, print files, .txt files, etc. to a location outside of the data folder. Do not delete files! Move them to a folder marked for deletion at a future date (like a year from now), just in case you discover a file needs to be moved back.
If you use the PJ correspondence log and the Correspondence folder is inside the data folder, work with your Sage certified consultant to move the folder to a new location outside of the data folder. Do this for your Printouts folder too. This will reduce the size of your data folder and make it much easier to use File Tools to back up your data folder.
Move data to History files or archive folders. When upgrading data in version 17.1, every record in the database must be upgraded. This can take considerable time. When data is split between the current and history transaction files, the upgrade process can be split into two or more sessions, shortening the time before users can log back in.
Make a File Tools backup of the data folder and then run File Doctor to compress good files and fix and compress bad files. Schedule this for an evening or weekend! Depending on the size of your data, this can take several hours to complete.
Allow plenty of time to upgrade your data after installing the new version. As mentioned, every record in your database must be upgraded after installing version 17.1. Users will not have access to the software during the installation and upgrade process.
Steps 1 through 5 can be completed well in advance of the new version installation. If you complete your annual upgrade with the assistance of a Sage certified consultant, or if you require assistance preparing your data for the upgrade, you are especially encouraged to schedule time with your consultant well before the date you plan to install the newer version (even months in ahead). With these steps completed in advance, your version upgrade can be completed quicker and with less potential for unexpected issues.

Adding an item on the fly in Sage Estimating
by Renee Mullen, Sage Marketing Manager
How to enable the 'Add New Item' option in Takeoff
We have all been in the position when completing a takeoff and we realize we are just one item short. We need to add this item and we know there should be an easier way to do this besides adding the item directly to the database.
Well, good news! There is a way, there is an option in Estimating that allows us to add a new item quickly. In this article, we will discuss finding and enabling the option to allow this.
Four easy step to enable the "Include Add New Item entry on takeoff lists:"
In Sage Estimating select Edit, Options
Select the Takeoff tab.
Check the box labeled "Include Add New Item Entry on Takeoff Lists"
Select Save and then Close.
Now when you are performing an Item Takeoff in Sage Estimating you will see the option to "Add New Item" which will allow you to add a new item on the fly!
Questions? Chat with us Monday through Friday, from 9 a.m.–8 p.m. ET.
For more information on this topic visit Knowledgebase article 87786. You can find this information and more in the Sage Knowledgebase.
Join the conversation at Sage City. Available 24/7, the online community is your gateway to many Sage resources.